CELEBRATING LEGAL EXCELLENCE
Liverpool Law Society is delighted by the number of nominations received for the 2019 Legal Awards from individuals, teams and firms across the membership.  The competition has been fierce, the independent judging panel have met and interviews have taken place.  The judging panel said: "The quality, quantity and calibre of applications for this year's Liverpool Law Society Legal Awards has been incredibly high, which reflects the strength and talent of our local legal community."  We are pleased to announce the shortlist below for the 2019 Legal Awards:
Employment Law Award
Brabners
Morecrofts Solicitors
MSB
Family Law Award
Hill Dickinson
JMW Solicitors – Liverpool family team
Morecrofts Solicitors
Criminal Law Award
Bell Lamb and Joynson Solicitors
MSB
Dispute Resolution & Litigation Award sponsored by BWM Chartered Accountants
Bermans
DWF – Liverpool Commercial Litigation Team
Hill Dickinson
Private Client Award
Brabners
Hill Dickinson
Morecrofts Solicitors
Property Law Award sponsored by Future Climate Info
Hill Dickinson
Morecrofts Solicitors
MSB
Commercial/Corporate Law Award sponsored by Liverpool City Region Business Post
Hill Dickinson
O'Connors Legal Services
Niche Law Firm Award sponsored by QPI (part of PIB)
Goodman Grant Solicitors
Knox Ellis (part of MSB)
Peter Edwards Law
Rising Star Award sponsored by University of Law
Hannah Bickley, Jackson Lees Group
Christina Millan, O'Connors Legal Service
Rebecca Roscoe, Bennett Williams Solicitors
Matthew Taylor, Weightmans
Work in the Community Award
DWF
Jackson Lees Group
Maxwell Hodge Solicitors
Morecrofts Solicitors
Small Law Firm Award sponsored by Midshire
Bennett Williams Solicitors
Donoghue Solicitors
Medium Law Firm Award sponsored by Index PI
Morecrofts Solicitors
MSB
Large Law Firm Award
Brabners
DWF
Jackson Lees Group
Weightmans
The awards ceremony on Friday, 17th May 2019 is one of the highlights of the region's legal profession's calendar and this year it will be taking place at the spectacular Rum Warehouse, Stanley Dock, Liverpool. Bookings can be made here.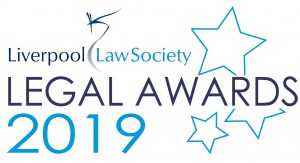 Liverpool Law Society is proud to have such diverse expertise amongst its members and congratulates all of those who have been shortlisted.  President Chris Topping said " I am very excited that the Legal Awards ceremony is now only a few weeks away, the announcement of the shortlist is always a significant moment in the build-up. I know that the evening will be a fantastic showcase for the excellent work of both individuals and firms who are members of Liverpool Law Society and I hope you will join with me in this celebration."
Sponsorship opportunities for the Legal Awards are still available, please contact Sarah Poblete, CEO or Liz Weeks, Deputy CEO for more information via the enquiry form