President, Vice President and Deputy Vice President of Liverpool Law Society:
Julie O'Hare
President of Liverpool Law Society 2019-21
Julie O'Hare was elected President of Liverpool Law Society on 10th December 2019 and this position was renewed for another 12 month term in December 2020.  Julie is a Team Manager and practising Solicitor in the Defence department of Carpenters Group. Julie was born in Liverpool and as she loves the City so much she has firmly remained close to home!
After a brief period studying art she decided that she wanted to pursue a career that would be much more fulfilling and rewarding and so decided to study Law at Liverpool University.
Taking a year out from studying, Julie worked at Mace and Jones for a year before undertaking the LPC at The College of Law, Chester; she then went on to start at Weightmans in 2007 where she completed her training contract.
In 2012 Julie joined Carpenters Group as the only Defendant employed solicitor where she has helped to build what is now a successful and rapidly growing Defence department.
Julie was Chair of Merseyside Junior Lawyers Division 2 years running where she assisted the Liverpool Law Society's General Committee before taking over as Chair of the Liverpool Law Society's Social Committee.
Julie has been a Director of Liverpool Law Society since 2011 and was Joint Honorary Secretary for 3 years before being elected a Vice President.
Looking ahead, Julie feels both honoured and privileged to take Liverpool Law Society into its 194th year and she will aim to build on the work that her predecessors have done to make the society one of the largest in England and Wales.
Top of Julie's agenda this year is to continue in the fight for Access to Justice as well as seeing a change in the way the profession approaches Diversity and Inclusion.
Julie is keen to continue developing strong links with other local professionals and will endeavour to work closely with the younger members of the profession and those aspiring to join us.
After careful consideration, Julie has decided her two chosen charities for her year in office will be the North West Legal Support Trust and CHICS Liverpool (a children's cancer support charity based at Alder Hey Hospital in Liverpool, covering Wirral and North Wales too)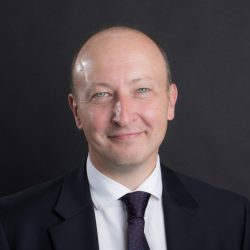 Steven Zdolyny
Vice President of Liverpool Law Society 2019-21
Steven was elected Vice President of Liverpool Law Society on 10th December 2019 and this position was renewed for another 12 month term in December 2020. Steven has served as a Director of the Society since 9 December 2014 and was previously Joint Honorary Secretary for 3 years.
For the coming year, Steven is looking forward to offering support to the President of the Society, as well as overseeing the work of the Future Planning Committee.  Steven is honoured to be able to work with fellow officers and staff to represent Liverpool Law Society and continue the excellent work of so many distinguished predecessors.
Steven has been a qualified solicitor for 29 years and has practised in the North West since 1996. Steven is currently General Counsel at Kim Technologies, an innovative and award-winning global technology business. Prior to this, Steven was the Director of Legal Services, General Counsel, COLP and Training Principal at EY Riverview Law, with its head office on the Wirral. He was a director on the board of Riverview Law, responsible for the quality of legal services delivered to international clients, compliance with regulatory requirements and all in house legal matters. From January 2021, Steven joins ME Group as General Counsel. ME Group is a LegalTech provider of litigation funding and legal process outsourcing, focused on complex and volume consumer legal disputes.
Steven is a former winner of The Lawyer, In House Public Sector Team of the Year Award and runner-up & highly commended in The Law Society Excellence Awards, Solicitor of the Year In-house.
Previously, Steven was the Director of Legal & Estates at the North West Development Agency (NWDA) and its subsidiaries, leading the legal, estates, property, procurement, insurance, ICT/information management and governance teams. Steven was responsible for many transformational projects in the Liverpool city region, including what was then the largest publicly backed regional venture capital fund in Europe. Steven was also instrumental in setting up and was a Board member of the North West Urban Investment Fund, a multi-million pound property investment fund that has benefited many businesses in the local area.
At the Environment Agency, Steven acted as Regional Solicitor for the north-west region, undertaking prosecution work, defending judicial reviews and civil claims, as well as advising on the development and implementation of new environmental law, strategy and policy.
Prior to being an in house lawyer, Steven spent 5 years in private practice undertaking a variety of commercial and other legal work.
Outside of work, Steven loves walking (not very far!) with a pet Cavalier King Charles Spaniel.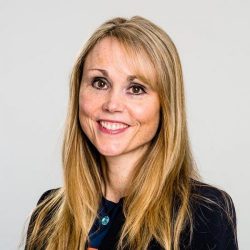 Jo Francis
Deputy Vice President of Liverpool Law Society 2020-21
Jo is a partner at BLM and heads up the firm's Liverpool Office. She also leads the Liverpool Casualty Team of over 40 lawyers.  She has extensive experience of managing and handling casualty and motor claims, including fatal accidents and catastrophic injury matters.
Jo is passionate about the City and is honoured to take on the role of the Society's first Deputy Vice President. She has utmost respect for the hard work and contributions of our City's lawyers for the Society and legal industry over the past couple of centuries; and is looking forward to continuing to support the Society herself.
Jo has worked in Liverpool throughout her legal career. She has been with BLM for 27 years, having started as a court clerk at Lace Mawer in 1993. She studied to become a Legal Executive whilst working; and then went on to qualify as a solicitor in 2000. She became an associate and partner within a couple of years and strongly believes in supporting lawyers in developing their careers, whatever path they may take.
She is the Client Relationship Partner for a number of well-known corporate clients and a major Government body. She ensures delivery of an effective, technical service to corporate and public sector clients, focussing on controlling indemnity spend; risk management and analysis of trends; and protection of reputation. She is keen on technological advances and innovation to benefit clients and works on strategic aspects, achieving positive trends.
In addition, Jo is the Practice Group Leader for BLM's Claims Management Services and a member of the Corporate and Broker Steering Groups. She is also a member of the Association of Insurance and Risk Managers in Industry and Commerce.
Jo has been Honorary Treasurer of Liverpool Law Society for 2 years and a Director for 5 years. She has worked hard to help manage the finances and operational side of the Society throughout the pandemic and will continue in this role until December 2021, when she will take on the role of Vice President.
Jo is married and lives in Wirral. She has a son and daughter, plus two cats, Daisy and Jake! She likes walking, cycling and playing tennis when she can.
Jo also loves working with young people and is a former Cubs Leader. She still supports 4th Heswall (St Peter's) Sea Scout Group by being a Section Assistant, regularly helping in various activities and camps for both Scouts and Cubs.