President and Vice President of Liverpool Law Society:
Julie O'Hare
President of Liverpool Law Society 2019-20
Julie O'Hare was elected President of Liverpool Law Society on 10th December 2019 for a 12 month term.  Julie is a Team Manager and practising Solicitor in the Defence department of Carpenters Limited.
Julie was born in Liverpool and as she loves the City so much she has firmly remained close to home!
After a brief period studying art she decided that she wanted to pursue a career that would be much more fulfilling and rewarding and so decided to study Law at Liverpool University.
Taking a year out from studying, Julie worked at Mace and Jones for a year before undertaking the LPC at The College of Law, Chester; she then went on to start at Weightmans in 2007 where she completed her training contract.
In 2012 Julie joined Carpenters Limited as the only Defendant employed solicitor where she has helped to build what is now a successful and rapidly growing Defence department.
Julie was Chair of Merseyside Junior Lawyers Division 2 years running where she assisted the Liverpool Law Society's General Committee before taking over as Chair of the Liverpool Law Society's Social Committee.
Julie has been a Director of Liverpool Law Society since 2011 and was Joint Honorary Secretary for 3 years before being elected a Vice President.
Over the past year Julie has enjoyed supporting our now Immediate Past President, Chris Topping, in what has been a challenging time for the profession.
Looking ahead, Julie feels both honoured and privileged to take Liverpool Law Society into its 193rd year and she will aim to build on the work that her predecessors have done to make the society one of the largest in England and Wales.
Top of Julie's agenda this year is to continue in the fight for Access to Justice as well as seeing a change in the way the profession approaches Diversity and Inclusion.
Julie is keen to continue developing strong links with other local professionals and will endeavour to work closely with the younger members of the profession and those aspiring to join us.
After careful consideration, Julie has decided her two chosen charities for her year in office will be the North West Legal Support Trust and CHICS Liverpool (a children's cancer support charity based at Alder Hey Hospital in Liverpool, covering Wirral and North Wales too)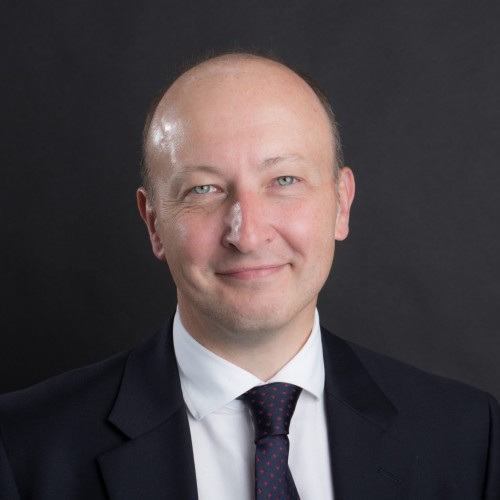 Steven Zdolyny
Vice President of Liverpool Law Society 2019-20
Steven was elected Vice President of Liverpool Law Society on 10th December 2019 for a 12 month term. Steven has served as a Director of the Society since 9 December 2014 and has acted as Joint Honorary Secretary since 13 December 2016.
For the coming year, Steven is looking forward to offering support to the newly appointed President of the Society, as well as overseeing the work of the Future Planning Committee.  Most of all, Steven is honoured to be able to represent Liverpool Law Society and continue the excellent work of so many distinguished predecessors.
Steven has been a qualified solicitor for 28 years and has practised in the North West since 1996. Steven is General Counsel at Kim Technologies, an innovative and award-winning global technology business. Prior to this, Steven was the Director of Legal Services, General Counsel, COLP and Training Principal at EY Riverview Law, with its head office on the Wirral. He was a director on the board of Riverview Law, responsible for the quality of legal services delivered to international clients, compliance with regulatory requirements and all in house legal matters.
Steven is a former winner of The Lawyer, In House Public Sector Team of the Year Award and runner-up & highly commended in The Law Society Excellence Awards, Solicitor of the Year In-house. He is also a former Director of Kim Technologies Limited (an international software company).
Previously, Steven was the Director of Legal & Estates at the North West Development Agency (NWDA) and its subsidiaries, leading the legal, estates, property, procurement, insurance, ICT/information management and governance teams. Steven was responsible for many transformational projects in the Liverpool city region, including what was then the largest publicly backed regional venture capital fund in Europe. Steven was also instrumental in setting up and was a Board member of the North West Urban Investment Fund, a multi-million pound property investment fund that has benefited many businesses in the local area.
At the Environment Agency, Steven acted as Regional Solicitor for the north-west region, undertaking prosecution work, defending judicial reviews and civil claims, as well as advising on the development and implementation of new environmental law, strategy and policy.
Prior to being an in house lawyer, Steven spent 5 years in private practice undertaking a variety of commercial and other legal work.
Outside of work, Steven is Chair of Governors at Stanley Grove and Rushbrook Primary Academies. Steven is passionate about improving opportunities for those most in need and ensuring they are able to contribute to a better working world.
Steven has been married for over 30 years and has 1 daughter at university. He loves walking (not very far!) with a pet Cavalier King Charles Spaniel.