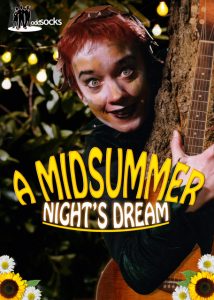 This summer come along to St Luke's Bombed Out Church for a festival of music, magic and mayhem as they bring that Shakespearean favourite "A Midsummer Night's Dream" to life, as you have never seen it before.
Every year Oddsocks delight audiences with their inspired approach to Shakespeare's plays and their trademark interactive style. "A Midsummer Nights Dream" with it's easy-to-follow storyline and hilarious characters is perfect for the Oddsocks treatment that uses Shakespeare's original lines in a high-energy, feel-good, family theatre show.
In the play four young lovers run away to a summer festival in the woods to escape the stress of parental expectations at home. Before long they unwittingly find themselves the subjects of tricks, played on them with hilarious results. Add to that a troupe of amateur actors hired to play at the festival and you have the perfect recipe for an evening of hilarious family entertainment.
If there's one show you see this summer, make it this one!
With the mauling of legal aid, it feels likes not much has changed since Shakespeare said "Like a poor man's right in the law … 'tis turned to a rusty armour".  This year Citizens Advice Liverpool celebrates 80 years of patching up that rusty armour and campaigning for change.  The Oddsocks weekend is an important fundraising event to help this charity continue to provide free legal advice to Liverpool's citizens. You can enjoy some wonderful outdoor theatre in the fabulous setting of St Luke's Bombed out Church and at the same time prove how wrong Shakespeare was to say that lawyers 'straight dream of fees'.
To book go to Ticketquarter at this link: Oddsocks Midsummer Nights Dream. Performances are on 13th July at 7pm and 14th July at 2.30pm. For group booking discounts and sponsorship enquiries, please contact james.organ@caliverpool.org.uk.
Reviews of previous productions of the play by Oddsocks:
Without doubt the performance was among the best productions that I have seen…
Jersey Evening Post
"SHAKESPEARE would definitely have approved of this version of the perennial seasonal play, A Midsummer Night's Dream. Oddsocks certainly knows how to tickle a funny bone or two. Laugh? I laughed until I cried at this absolutely fantastic rendition of Will's classic."
Derby Telegraph