On Tuesday, 11th June 2019 from 6pm, you are invited to take part in a 5km sponsored walk to help raise funds for local legal advice charities that help the most vulnerable and disadvantaged individuals across society.  The Liverpool Legal Walk is an annual event that has continuously celebrated the work of the legal profession and advice sector in protecting individual rights and ensuring access to justice for all.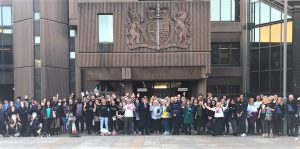 The work that North West Legal Support Trust (NWLST) does impacts a wide range of independent charities across Merseyside and Alan Kelly from the Vauxhall Community Law Centre emphasised the importance of this support after the 2018 Liverpool Legal Walk:  "If it wasn't for funds received from the North West Legal Support Trust and the Access to Justice Foundation the Law Centre would have become insolvent about 3 years ago and it would have closed.  The cuts in public funding to advice centres can be illustrated by the fact that in 2011 100% of our funding came from Legal Aid and the Local Authority. This year that figure is 0% (zero).  We now rely on charitable donations and fundraising."
As always, this year's Liverpool Legal Walk is supported by the Liverpool Law Society and the President, Chris Topping, will be taking part in this year's walk to help raise money to provide legal advice for those who cannot afford it.  In 2018, over £4,000 was raised by teams of walkers across law firms, barrister chambers and the voluntary sector and this year we are wanting even more sign ups and more money raised to support this valuable cause!
To register a team for this important and rewarding event, click here.