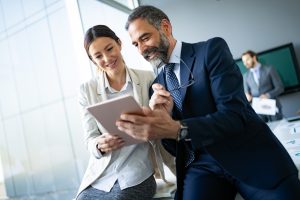 Liverpool City Region Growth Hub is working with Be the Business to bring their fully funded Mentoring for Growth programme to Merseyside.
Mentoring for Growth is Be the Business's flagship programme designed to connect business leaders from large, multinational companies with key decision makers and owners from small to medium enterprise (SME) organisations. This connection facilitates knowledge transfer, exchange of ideas, expertise and experience to shape the future direction of an SME. The experience will help deliver a step-change in business productivity.
The programme matches ambitious small and medium-sized businesses with a £2million turnover and above with experienced mentors from some of the UK's leading businesses including GSK, Amazon and the John Lewis Partnership. Some 180 successful matches have already been made across Greater Manchester, Birmingham, the North East of England and London. This figure is set to increase to 1,000 by March 2020.
The Liverpool City Region Growth Hub is responsible for identifying SMEs which could benefit from the programme and then matching them with mentors – selected by Be the Business – from some of England's most productive companies.
Janice Mears, Head of Business Growth at the Liverpool City Region Growth Platform said:
"Be the Business Mentoring for Growth is a fantastic opportunity for SMEs across the Liverpool City Region to connect with business leaders from a range of sectors, driving forward productivity and growth of our SME businesses. We are delighted to be involved"
Be the Business is the business-led organisation created to drive up UK productivity and competitiveness. Led by Sir Charlie Mayfield, chairman of the John Lewis Partnership, Be the Business is spearheading a business-led drive to help companies across the UK improve their performance.
For businesses interested in the programme, download brochure here
If you feel that your business would benefit from Be the Business's Mentoring for Growth programme, or you would like further information, please contact Claire Pedersen claire.pedersen@growthco.uk  or call 07407 380235
https://www.businessgrowthhub.com/btbmentoring
The eligibility criteria for the programme is: a minimum of 10+ employees in any sector; £2m turnover and the mentee is a key decision maker within the business.