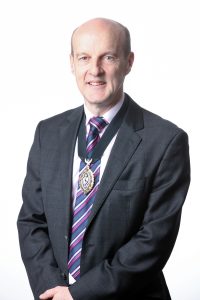 On 11 December, Liverpool Law Society announced the appointment of Chris Topping, Director at Broudie Jackson Canter, as its President for 2019.
The historic society launched in 1827 is one of the oldest and largest in England and Wales, with around 2000 members who are engaged in a wide variety of legal work ranging from high-value commercial projects to complex charity cases.
Chris Topping is a renowned human rights lawyer who was named Human Rights Lawyer of the Year in 2016 and is one of the leading solicitors in the country in this area of work. A staunch defender of the people, Chris heads the Actions Against Public Authorities department at Broudie Jackson Canter Solicitors – a firm famed for its work on Hillsborough and other high profile cases. He brings challenges against the Police, Prison Service and hospitals, primarily when the rights of an individual have been abused or removed.
He started his career as a young lawyer Toxteth in the 1980s and has worked in the city for over 32 years. During that time, he has developed a practice that has gained national renown for dealing with complaints and claims of Police malpractice.
Until recently he was a member of the Law Society Mental Health Tribunal Panel, having conducted over 500 tribunals, representing those whose liberty has been removed under the Mental Health Act 1983. Some of the most important cases in the leading textbook, 'The Mental Health Manual' have been taken by Chris and his colleagues.
Chris Topping said: "I'm delighted to have been appointed as President of this prestigious and historic society. Liverpool's legal sector is extremely rich and diverse, with deep expertise across a range of practice areas. It's wonderful to be a part of this great community of friends and colleagues and it is an honour to be asked to lead my peers over the next year.
"Over the next 12 months, I look forward to continuing the great work of my Liverpool Law Society predecessors and will champion themes of access to justice, diversity and equality. Next year marks a centenary of women working in the law – this is a milestone to celebrate but also highlights the work needed to ensure gender equality, and particularly Increased representation of women in senior roles. We aim to work with the Social Mobility Foundation and to engage with Liverpool schools and highlight potential legal career options to children from all walks of life across the city."