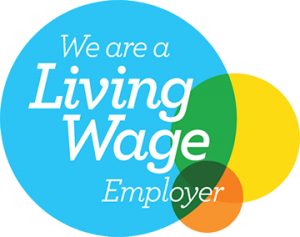 We are delighted to announce that Liverpool Law Society is now an accredited Living Wage Employer.  This means that every member of staff working for Liverpool Law Society will earn a real Living Wage.
The North West is a region with nearly a quarter of all jobs (23%) paying less than the real Living Wage – around 634,000 jobs. The President of Liverpool Law Society Nina Ferris says "We are really proud to be able to make this commitment, which fits with our Society's values to do the right thing in the right way as well as underlining our commitment to the Liverpool Fair City standard.  As a membership organisation representing over 2000 solicitors in the Liverpool City Region it is incumbent on us to lead by example and we hope that our members will be encouraged to consider becoming Living Wage employers where they are not already. "
Since 2011 the Living Wage movement has delivered a pay rise to over 150,000 people and put over £600m extra into the pockets of low paid workers. The real Living Wage is higher than the government's minimum, or National Living Wage, and is an independently calculated hourly rate of pay that is based on the actual cost of living. It is calculated each year and is announced by the Living Wage Foundation as part of Living Wage Week. It is currently £8.75 in the UK, with a higher rate of £10.20 for London, reflecting the higher costs of living in the capital.
Tess Lanning, Director, Living Wage Foundation said: "We're delighted that Liverpool Law Society has joined the movement of over 4,000 responsible employers across the UK who voluntarily commit to go further than the government minimum to make sure all their staff earn enough to live on.
They join thousands of small businesses, as well as household names such as IKEA, Heathrow Airport, Barclays, Chelsea and Everton Football Clubs and many more. These businesses recognise that paying the real Living Wage is the mark of a responsible employer and they, like Liverpool Law Society, believe that a hard day's work deserves a fair day's pay."
You can find out more about the Living Wage by visiting www.livingwage.org.uk.